Shop
Shop by edit
Shop by category
Free UK Delivery on all orders over £25 Free UK Delivery on all orders over £25 Free UK Delivery on all orders over £25 Free UK Delivery on all orders over £25 Free UK Delivery on all orders over £25 Free UK Delivery on all orders over £25 Free UK Delivery on all orders over £25 Free UK Delivery on all orders over £25 Free UK Delivery on all orders over £25 Free UK Delivery on all orders over £25 Free UK Delivery on all orders over £25 Free UK Delivery on all orders over £25 Free UK Delivery on all orders over £25 Free UK Delivery on all orders over £25 Free UK Delivery on all orders over £25 Free UK Delivery on all orders over £25 Free UK Delivery on all orders over £25 Free UK Delivery on all orders over £25 Free UK Delivery on all orders over £25 Free UK Delivery on all orders over £25 Free UK Delivery on all orders over £25 Free UK Delivery on all orders over £25 Free UK Delivery on all orders over £25 Free UK Delivery on all orders over £25 Free UK Delivery on all orders over £25 Free UK Delivery on all orders over £25 Free UK Delivery on all orders over £25 Free UK Delivery on all orders over £25 Free UK Delivery on all orders over £25 Free UK Delivery on all orders over £25 Free UK Delivery on all orders over £25 Free UK Delivery on all orders over £25 Free UK Delivery on all orders over £25 Free UK Delivery on all orders over £25 Free UK Delivery on all orders over £25 Free UK Delivery on all orders over £25 Free UK Delivery on all orders over £25 Free UK Delivery on all orders over £25 Free UK Delivery on all orders over £25 Free UK Delivery on all orders over £25 Free UK Delivery on all orders over £25 Free UK Delivery on all orders over £25 Free UK Delivery on all orders over £25 Free UK Delivery on all orders over £25 Free UK Delivery on all orders over £25 Free UK Delivery on all orders over £25 Free UK Delivery on all orders over £25 Free UK Delivery on all orders over £25 Free UK Delivery on all orders over £25 Free UK Delivery on all orders over £25 Free UK Delivery on all orders over £25 Free UK Delivery on all orders over £25 Free UK Delivery on all orders over £25 Free UK Delivery on all orders over £25 Free UK Delivery on all orders over £25 Free UK Delivery on all orders over £25 Free UK Delivery on all orders over £25 Free UK Delivery on all orders over £25 Free UK Delivery on all orders over £25 Free UK Delivery on all orders over £25 Free UK Delivery on all orders over £25 Free UK Delivery on all orders over £25 Free UK Delivery on all orders over £25 Free UK Delivery on all orders over £25 Free UK Delivery on all orders over £25 Free UK Delivery on all orders over £25 Free UK Delivery on all orders over £25 Free UK Delivery on all orders over £25 Free UK Delivery on all orders over £25 Free UK Delivery on all orders over £25 Free UK Delivery on all orders over £25 Free UK Delivery on all orders over £25 Free UK Delivery on all orders over £25 Free UK Delivery on all orders over £25 Free UK Delivery on all orders over £25 Free UK Delivery on all orders over £25 Free UK Delivery on all orders over £25 Free UK Delivery on all orders over £25 Free UK Delivery on all orders over £25 Free UK Delivery on all orders over £25 Free UK Delivery on all orders over £25 Free UK Delivery on all orders over £25 Free UK Delivery on all orders over £25 Free UK Delivery on all orders over £25 Free UK Delivery on all orders over £25 Free UK Delivery on all orders over £25 Free UK Delivery on all orders over £25 Free UK Delivery on all orders over £25 Free UK Delivery on all orders over £25 Free UK Delivery on all orders over £25 Free UK Delivery on all orders over £25 Free UK Delivery on all orders over £25 Free UK Delivery on all orders over £25 Free UK Delivery on all orders over £25 Free UK Delivery on all orders over £25 Free UK Delivery on all orders over £25 Free UK Delivery on all orders over £25 Free UK Delivery on all orders over £25 Free UK Delivery on all orders over £25 Free UK Delivery on all orders over £25
Free UK Delivery on all orders over £25 Free UK Delivery on all orders over £25 Free UK Delivery on all orders over £25 Free UK Delivery on all orders over £25 Free UK Delivery on all orders over £25 Free UK Delivery on all orders over £25 Free UK Delivery on all orders over £25 Free UK Delivery on all orders over £25 Free UK Delivery on all orders over £25 Free UK Delivery on all orders over £25 Free UK Delivery on all orders over £25 Free UK Delivery on all orders over £25 Free UK Delivery on all orders over £25 Free UK Delivery on all orders over £25 Free UK Delivery on all orders over £25 Free UK Delivery on all orders over £25 Free UK Delivery on all orders over £25 Free UK Delivery on all orders over £25 Free UK Delivery on all orders over £25 Free UK Delivery on all orders over £25 Free UK Delivery on all orders over £25 Free UK Delivery on all orders over £25 Free UK Delivery on all orders over £25 Free UK Delivery on all orders over £25 Free UK Delivery on all orders over £25 Free UK Delivery on all orders over £25 Free UK Delivery on all orders over £25 Free UK Delivery on all orders over £25 Free UK Delivery on all orders over £25 Free UK Delivery on all orders over £25 Free UK Delivery on all orders over £25 Free UK Delivery on all orders over £25 Free UK Delivery on all orders over £25 Free UK Delivery on all orders over £25 Free UK Delivery on all orders over £25 Free UK Delivery on all orders over £25 Free UK Delivery on all orders over £25 Free UK Delivery on all orders over £25 Free UK Delivery on all orders over £25 Free UK Delivery on all orders over £25 Free UK Delivery on all orders over £25 Free UK Delivery on all orders over £25 Free UK Delivery on all orders over £25 Free UK Delivery on all orders over £25 Free UK Delivery on all orders over £25 Free UK Delivery on all orders over £25 Free UK Delivery on all orders over £25 Free UK Delivery on all orders over £25 Free UK Delivery on all orders over £25 Free UK Delivery on all orders over £25 Free UK Delivery on all orders over £25 Free UK Delivery on all orders over £25 Free UK Delivery on all orders over £25 Free UK Delivery on all orders over £25 Free UK Delivery on all orders over £25 Free UK Delivery on all orders over £25 Free UK Delivery on all orders over £25 Free UK Delivery on all orders over £25 Free UK Delivery on all orders over £25 Free UK Delivery on all orders over £25 Free UK Delivery on all orders over £25 Free UK Delivery on all orders over £25 Free UK Delivery on all orders over £25 Free UK Delivery on all orders over £25 Free UK Delivery on all orders over £25 Free UK Delivery on all orders over £25 Free UK Delivery on all orders over £25 Free UK Delivery on all orders over £25 Free UK Delivery on all orders over £25 Free UK Delivery on all orders over £25 Free UK Delivery on all orders over £25 Free UK Delivery on all orders over £25 Free UK Delivery on all orders over £25 Free UK Delivery on all orders over £25 Free UK Delivery on all orders over £25 Free UK Delivery on all orders over £25 Free UK Delivery on all orders over £25 Free UK Delivery on all orders over £25 Free UK Delivery on all orders over £25 Free UK Delivery on all orders over £25 Free UK Delivery on all orders over £25 Free UK Delivery on all orders over £25 Free UK Delivery on all orders over £25 Free UK Delivery on all orders over £25 Free UK Delivery on all orders over £25 Free UK Delivery on all orders over £25 Free UK Delivery on all orders over £25 Free UK Delivery on all orders over £25 Free UK Delivery on all orders over £25 Free UK Delivery on all orders over £25 Free UK Delivery on all orders over £25 Free UK Delivery on all orders over £25 Free UK Delivery on all orders over £25 Free UK Delivery on all orders over £25 Free UK Delivery on all orders over £25 Free UK Delivery on all orders over £25 Free UK Delivery on all orders over £25 Free UK Delivery on all orders over £25 Free UK Delivery on all orders over £25 Free UK Delivery on all orders over £25
log in
reset your password
Enter your email address below to recover your password
create an account
Create an account to view previous purchases and check out easier
log in
reset your password
Enter your email address below to recover your password
create an account
Create an account to view previous purchases and check out easier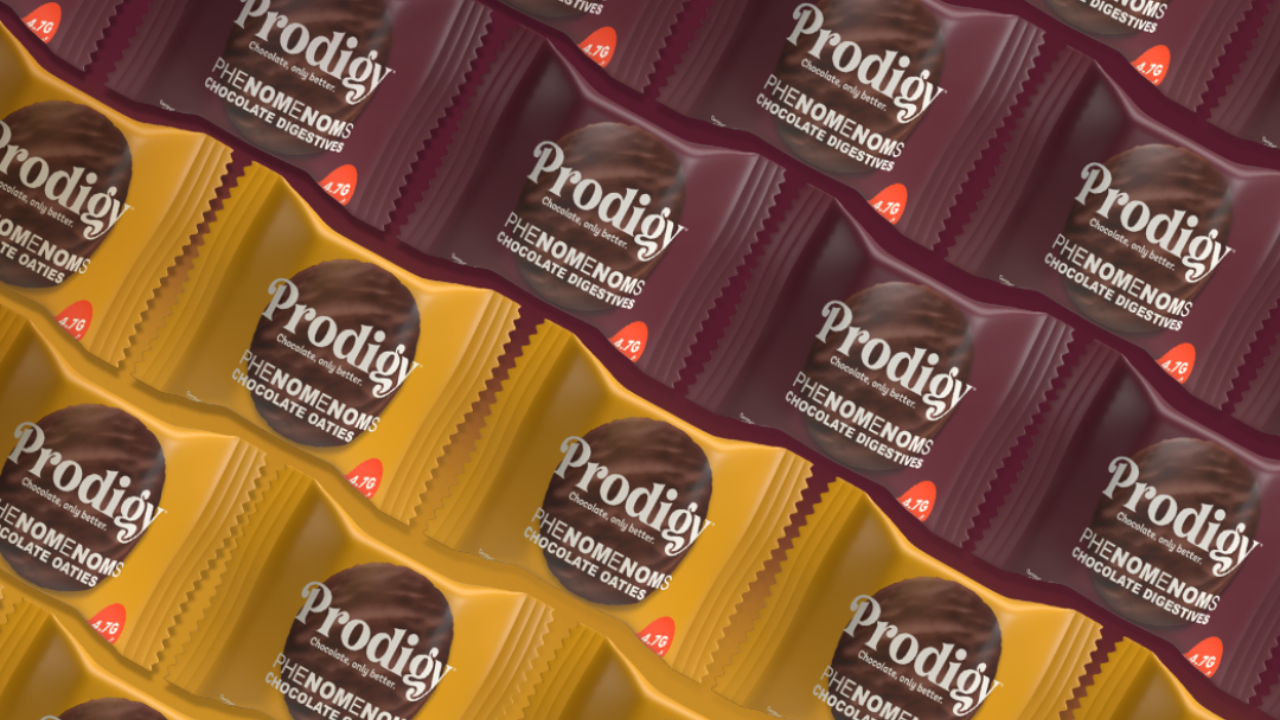 2023 07-10
Journal
Choclight on Phenomenoms Chocolate Biscuits
What do they taste like? 
Tea cup catch ups, afternoon classics and crumbly, crunchy rich chocolate yum. 
What inspired them? 
A big fan of two British classics, the chocolate digestive and the chocolate oatie Sameer just had to create a Prodigy version. After months of making, baking and refining he landed on the naturally sweet duo you lot now adore as Phenomenoms Chocolate Digestives and Phenomenoms Chocolate Oaties. 
What are they made from? 
Delicious plant-based ingredients that are completely natural, without any palm oil or refined sugar and very much wheat-free. The Chocolate Digestive gets its snap from wholemeal flours (including barley, oat and rye), while the Chocolate Oatie gets its crunch from fibre-full oats. Antioxidant-packed, cacao-rich chocolate tops both and adds just the right amount of moreish mmmmmm. 
What makes them so deliciously different? 
They taste dunkingly good but contain none of the industrially produced, synthetic ingredients that scramble our systems. Each 32g serving contains just 4.6 grams of natural sugar and a gut-nourishing 3.5 - 3.7 grams of prebiotic fibre. So, you get all the rich, crunchy and crumbly tastiness without any of the unsavoury side effects.  
What's their superpower? 
The biscuits are packaged in compostable wrappers and every pack sold stops other people's ocean bound plastic from destroying the environment. To date your support has helped us to clean up a whopping 5.1 million plastic wrappers.  
The biscuits also support The Felix Project. An amazing London-based food redistribution charity which rescues high-quality, nutritious food from the food industry and delivers it to charities, primary schools and holiday programmes across the city. 
Buy 'em for ... 
The gossip-tastic kitchen at work, the snack-bare cupboard at home. Your pals, your people and your chocolate-loving self.  
Order here now